EcoFlow GLACIER Portable Refrigerator
ESTIMATED LEAD TIME ON ALL BED RACKS AND XBRS: AROUND 4-6 WEEKS
• Industry's first integrated ice maker
• Dual zone, dual control
• The fastest cooling in the industry
• Wire-free cooling for up to 40 hours
• Detachable suitcase design
* GLACIER's accessories (Plug-in Battery and Detachable Wheels and Lever) are sold separately.
* GLACIER and its accessories (Plug-in Battery and Detachable Wheels and Lever) are shipped separately. Please note that you will receive at least 2 packages and 2 tracking numbers.
Wherever your adventures take you.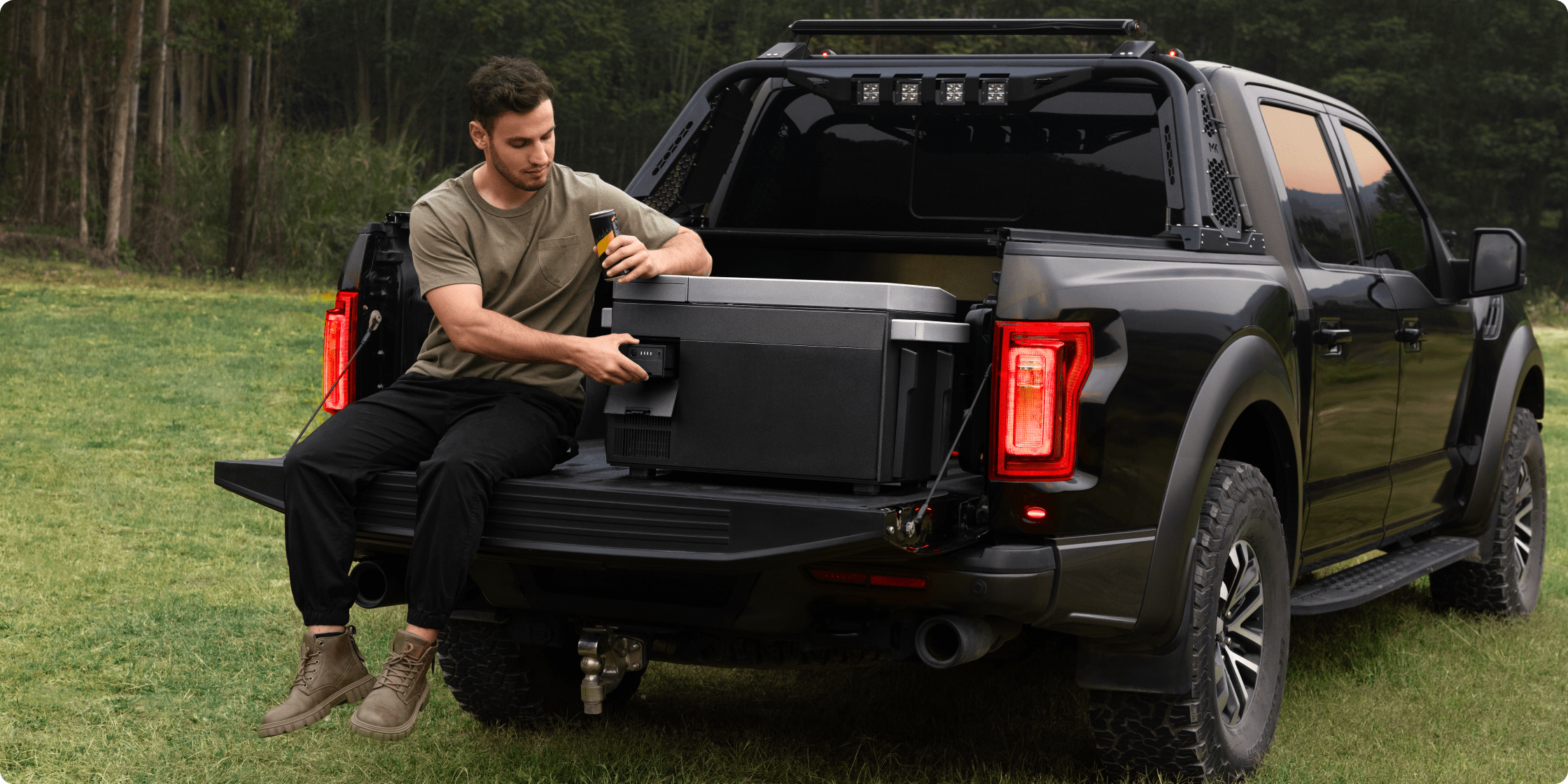 Pick-up trucks
RVs
Truck sleepers
Boats
Outdoors
Industry's first integrated ice maker.
Equipped with a powerful 120W compressor, it brings you 18 solid ice cubes in 12 minutes.[1] For all the spine-tingling moments along your journey, spice them up with chilled sodas.
A fridge-freezer at its best.
Equipped with a removable divider separating it into two zones, and independent temperature control, both sections can refrigerate and freeze from 50°F (10°C) to -13°F (-25°C). Steak, cheese, or soft drinks...whatever you want to stock up on, it shape-shifts to meet your needs.
The fastest cooling in the industry.
Cooling at the optimum speed when empty, GLACIER rapidly refrigerates from 86°F (30°C) to 32°F (0°C) in around 15 minutes.
Cooling for up to 40 hours wire-free.
Designed for absolute portability, GLACIER can be powered by the Plug-in Battery[2] and free from messy, limiting cables.With a large battery capacity of 298Wh, savor up to 40 hours[3] of easy access to frozen meals, fresh fruit, and ice-cold beverages.
Charge laptops and more on the go.
With 100W max USB-C charging, it even powers up your phones and laptops so you'll never lose touch with your loved ones.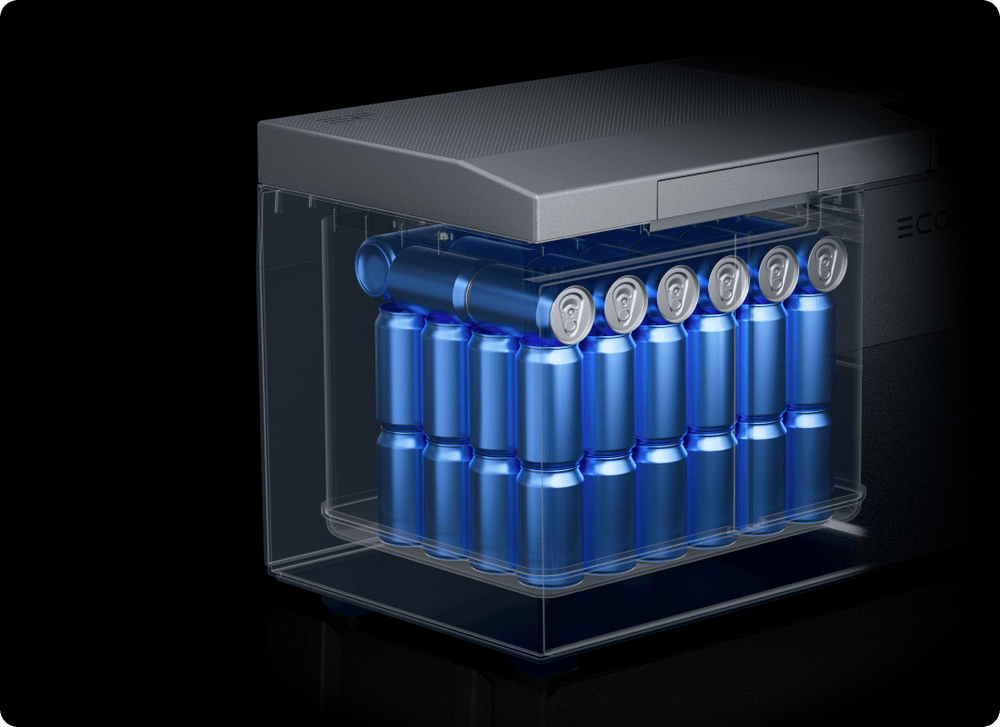 Maximize the use of space.
38L Capacity = 60 × 330ml Cans
Go for a whole fridge with veggies and fruit when out for a picnic. If you're off-roading in the desert, the 38L of steaks fuels you up for any thrill.
Chilling on the move.
Detachable Lever and Wheels
One lever and one set of wheels, all detachable.[4] Wheel the fridge-freezer to wherever your adventures take you. Detach these accessories and fit GLACIER right on your RV's countertop, in the passenger seat, and in other compact spaces.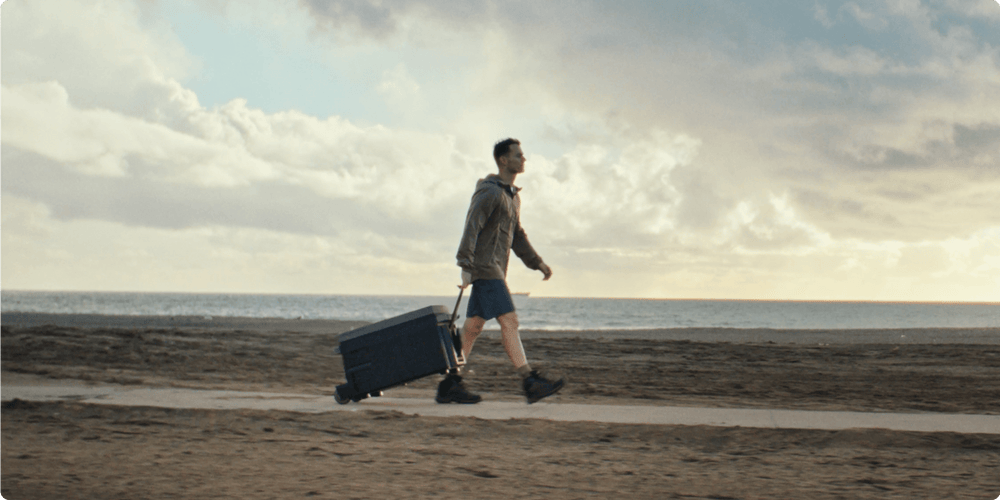 Control at your fingertips.
The EcoFlow app allows the intelligent temperature control of GLACIER via Wi-Fi or Bluetooth.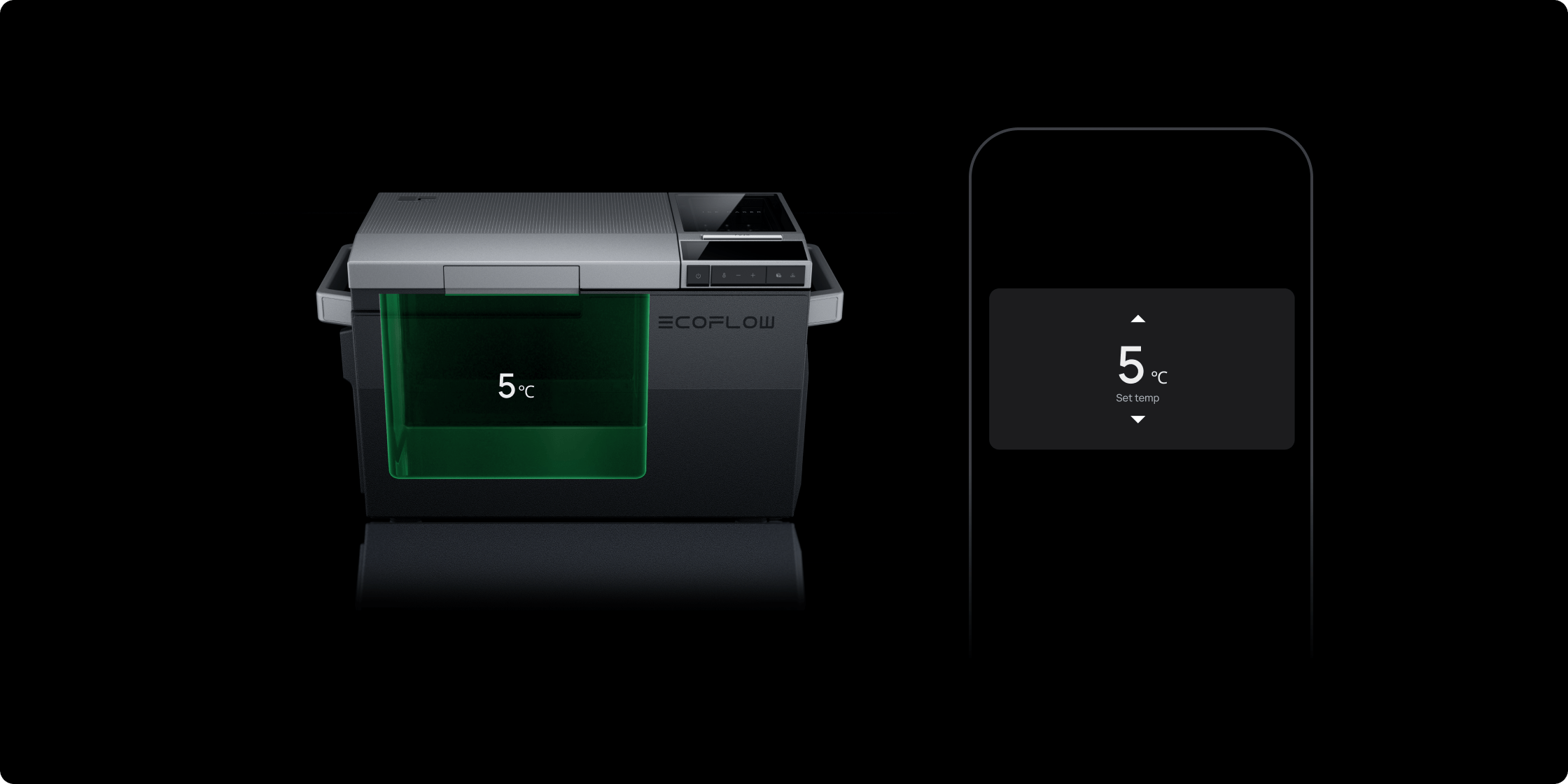 Fridge
Freezer
Fridge-Freezer
Freezer-Fridge
Nothing's cooler than going green.
We're all about guarding both the green planet and your user experience.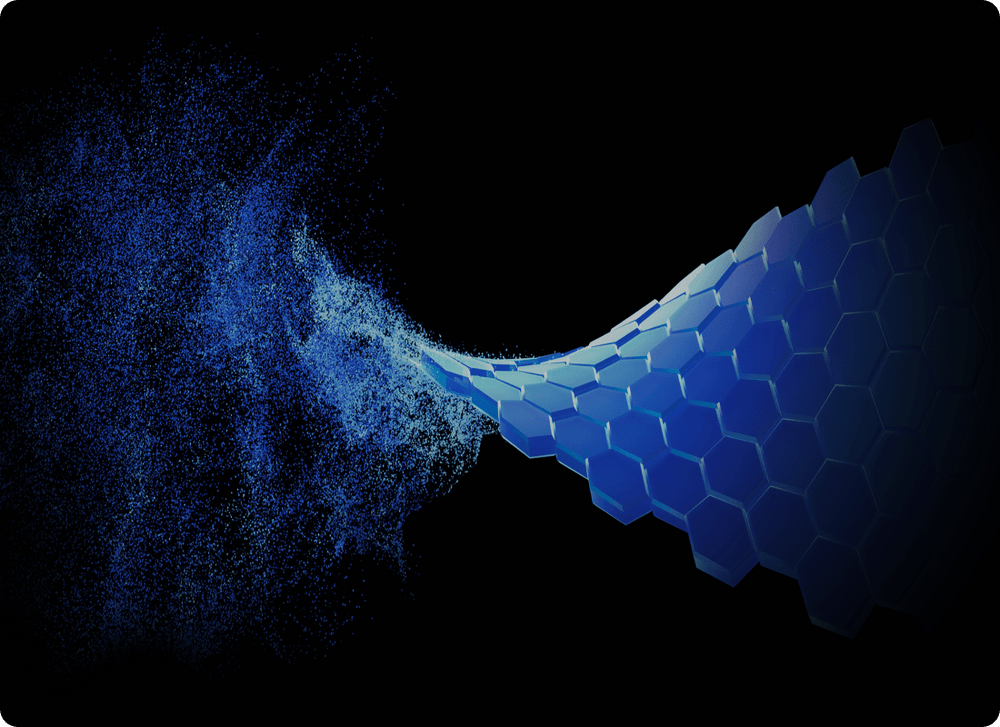 The VIP technology.
GLACIER sports vacuum insulation panels (VIPs). With a low thermal conductivity, these panels help optimize energy efficiency, reducing energy consumption, carbon footprint, and the environmental impact of refrigerant production and disposal.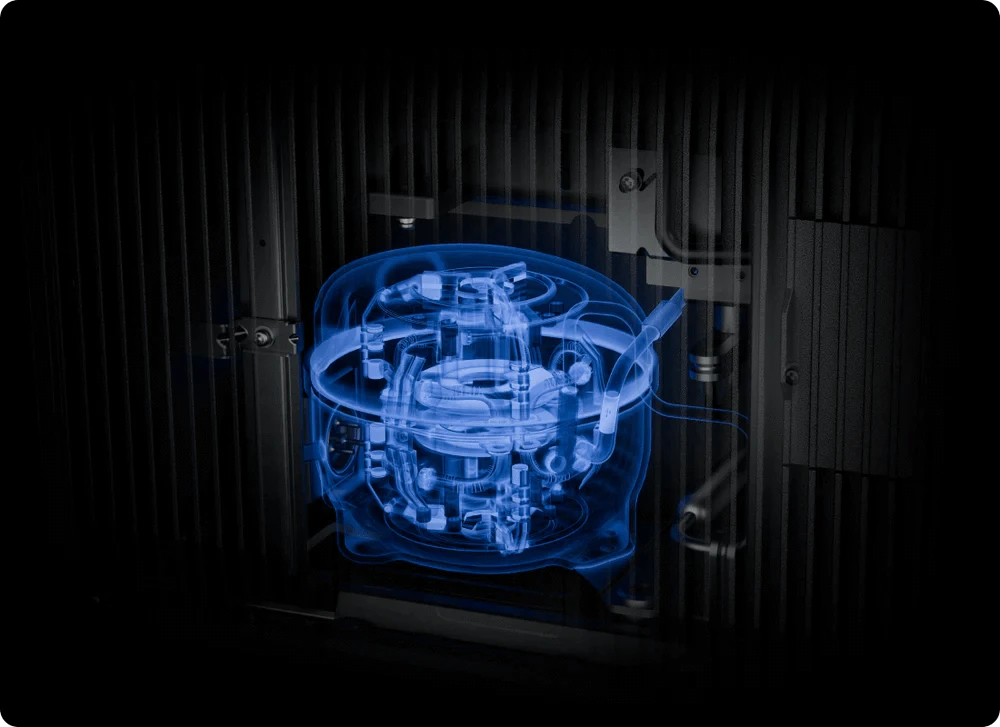 Eco mode.
Under Eco mode—the energy-saving mode—GLACIER uses only 0.18kWh per day[5].
Charge up anywhere.
Multiple Charging Methods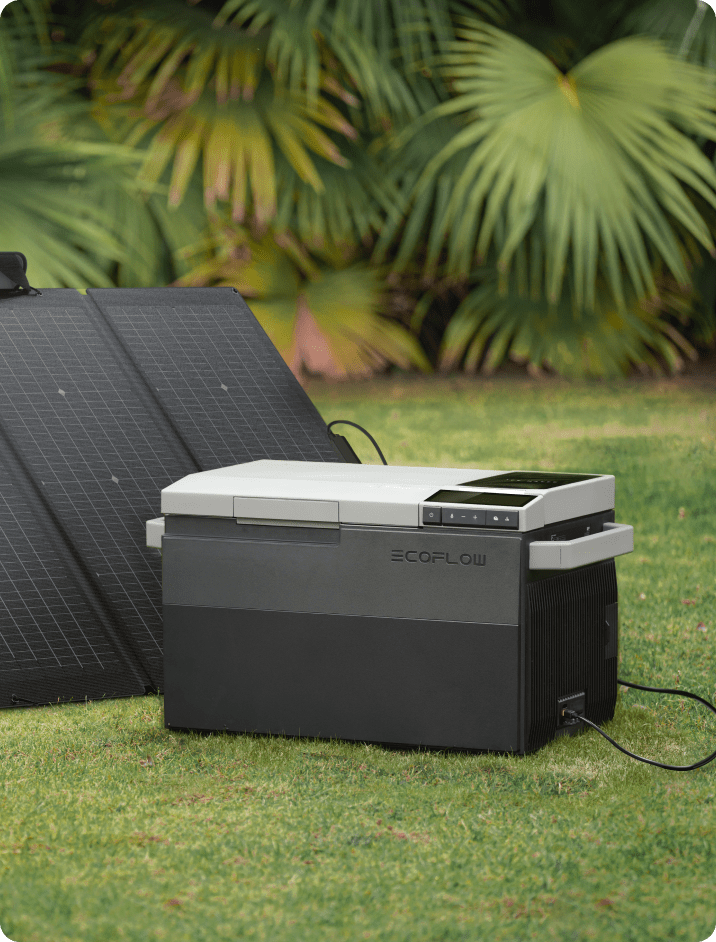 Fully charged by solar energy[6] (up to 240W) in as fast as 2.1 hr
Fully charged by AC in 2.2 hr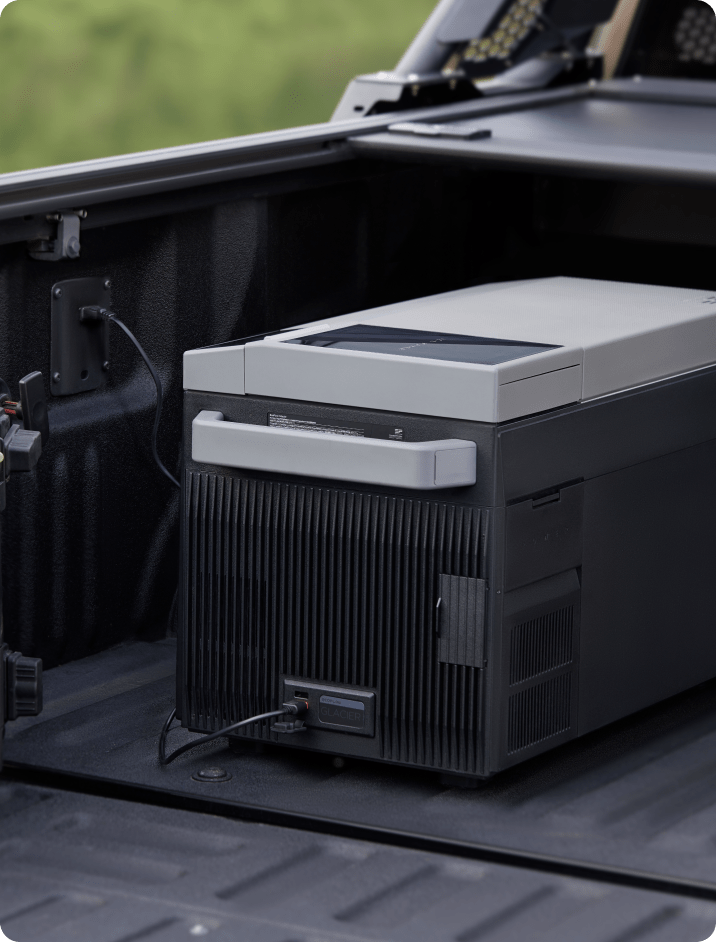 Fully charged by
DC (12V) in 4 hr
DC (24V) in 2.1 hr
1. The test result was gained with the ambient temperature of 77℉ (25°C) and water temperature of 59℉ (15°C). The first round of ice making might take longer than 12 minutes.
2. Plug-in Battery is sold separately.
3. The test result was gained with the fridge empty, its temperature set to 39℉ (4°C), and the ambient temperature of 77℉ (25°C).
4. The detachable wheels and lever are sold separately.
5. The test result was gained with the ambient temperature of 77℉ (25°C) and GLACIER's temperature set to 39℉ (4°C).
6. Solar charging applies only when GLACIER is connected to the Plug-in Battery.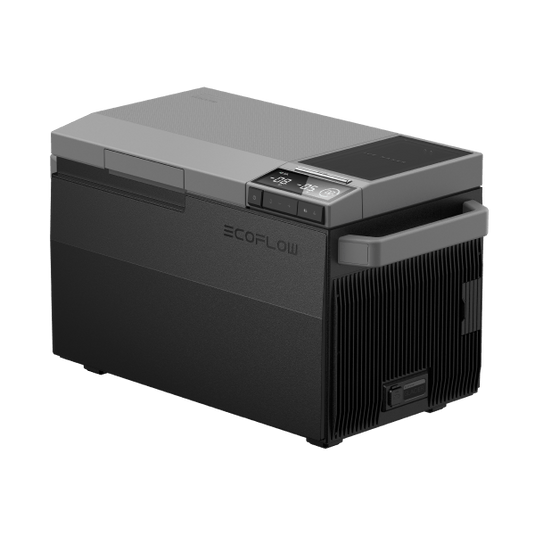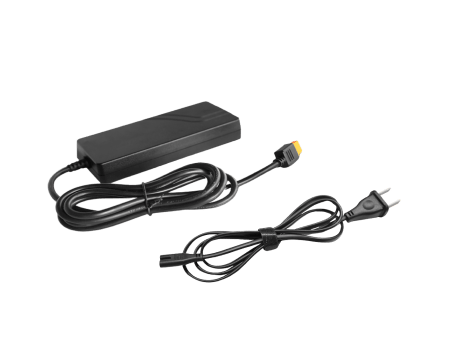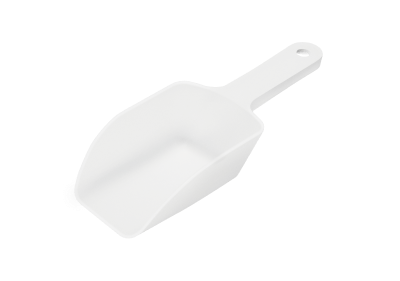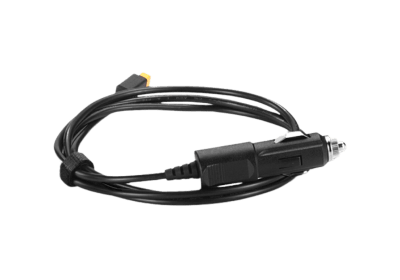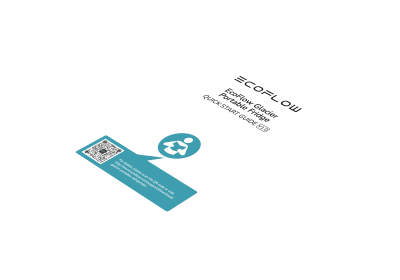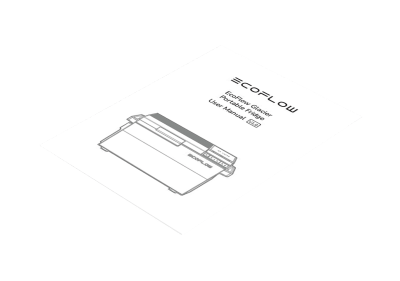 Specs
Operational Volume
Single zone: 38L (40 qt.); Dual zone: 36L (38 qt.)
Dimensions (wheels and handles not included)
776 × 385 × 445 mm / 30.6 × 15.2 × 17.5 in
Refrigeration Temperature Range
–25°C to 10°C (–13°F-50°F) (ambient temperature at 25°C)
Noise Level (stable operation)
Ice making: <52dB; Refrigeration: <42dB
Quick Freezing Mode (86 °F to 32°F)
Refrigeration Power Rating
Wi-Fi
This product supports 2.4G Wi-Fi only
When purchasing a bed rack from us, you will receive two packages with separate tracking numbers (one contains the extrusion bars, and the other contains various components and hardware).
Shipping will be determined by weight and your region.