Midnight Forest Rain Basin Washdown 8 Gal
ESTIMATED LEAD TIME ON ALL BED RACKS AND XBRS: AROUND 4-6 WEEKS
Washdown Features:
8 Gallon capacity
LDPE material – safe for drinking water
Rubber cleats to keep tank from sliding during travel
Large top cap for easy water and ice fill
Top cap equipped with a oneway valve to allow water to flow through spout
Bottom face and port indented for rain collection
Large capacity sink and drain plug
Rain Flare Kit Features:
High pressure | Low Water Use
6 pattern pressure nozzle with useful settings such as 400 pSI jet, 40 & 15 degree fan, and dispersed shower
16ft quick connect hose
Garden nozzle to operate tank as gravity feed – low pressure, no batteries required
30 minute constant spray battery life – empty your 8 gallon tank 2.8 times without recharging.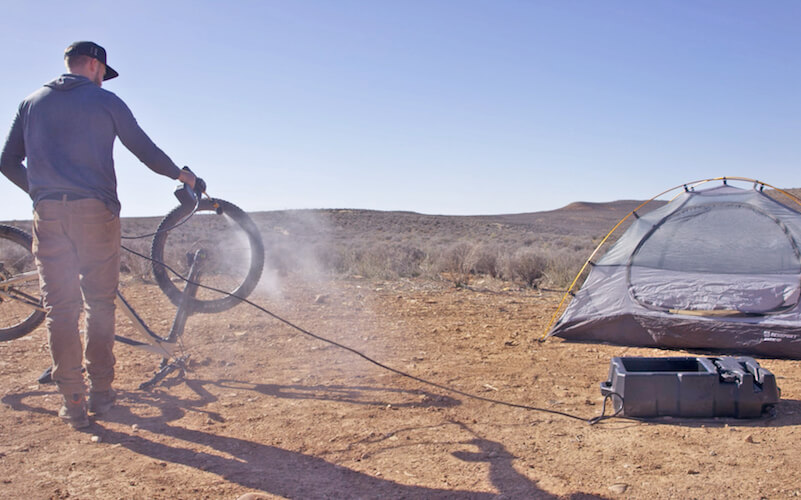 Overland Camp Kitchen
Wash your dishes, pots, and pans on the go -even let them soak overnight! The Rain Basin Washdown is perfect for outdoor enthusiasts that love to do some cooking at camp. Make clean up easy with our many pressure washer and large capacity sink. Blast grease off pans even faster than you could at your in home kitchen!
The perfect car camping water system!
The Rain Flare is specially designed to have a high pressure stream -400 PSI- with a low GPM(Gallons per minute). This allows a user to conserve their limited water supply while still being able to tackle tough jobs, like removing thick and hardened mud from your vehicle.
The Rain Flare kit comes with your sprayer, battery, 6 pattern spray nozzle, wall charger, and 16ft hose. Click the nozzle to choose from soft shower settings for rinsing off at camp, and laser focused jet streams to clean gear. Spray for 30 minutes on one battery charge -enough spray time to empty the 2 gal tank 9 times. Your kit also comes with a quick connect garden nozzle. This allows you to operate your tank just by gravity feed. This no-battery-required option comes in handy for gentle jobs like filling a dog bowl or washing a child.
The 8 Gallon Washdown is a large capacity tank with enough water storage to handle a full family outing. The Washdown isn't just great for cleaning up after cooking. Toggle the 6 pattern spray nozzle to "shower" to wash up after a big hike, or use the 16ft hose to reach your muddy gear that needs a spray down.
The Rain Basin can be used for rain collection. Simply remove the rain collection cap and set the tank on a flat surface. Then cozy up in your tent and let your tank refill overnight.
— WARNING: Using this product in an unsafe manner can cause injury. Keep product out of reach of children—
*** Our Rain Flare will only work on our tanks as our tanks have intake valves to allow for inward air flow***
When purchasing a bed rack from us, you will receive two packages with separate tracking numbers (one contains the extrusion bars, and the other contains various components and hardware).
Shipping will be determined by weight and your region.